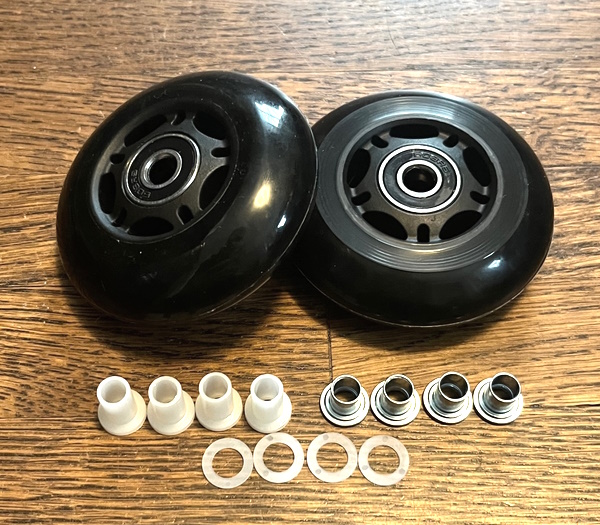 These 76MM In-Line Skate Wheels are a great way to keep your luggage rolling smoothly. These wheels are all black, so they will match your luggage. Each pair of wheels comes with ABEC 7 bearings with shields, 4 metal bushings, and 4 nylon bushings. You may choose which bushings to use. General instructions included.
**Please ensure that your luggage has wheels that can be removed before ordering. Please measure your wheels to make sure you are getting the right size. 76mm = 3 inches and wheels are 1" thick
The flanged bushings are used to step down the inside diameter of the bearings from 8mm to 6mm (the diameter of most Travelpro axles) and also to provide 2mm of space between the wheel and the housing.
If your axles are 8mm, please let us know in the order comments. The bearings that come with the wheels might not accommodate your axle, but we have different bearings that we can include that will work.
The 76MM wheels will fit most Travelpro FlightCrew2,3,4,5, and Crew 3 through Crew9 rollaboards. There are 2 known exceptions: 22" Pilot Expandable Rollaboard purchased prior to April 2008 and FlightCrew2 13" Rolling Overnighter. The old Pilot Rollaboard requires a 72MM wheel. New Pilot Rollaboards use a 76mm wheel. Replacing wheels on the overnighter requires a total wheel housing assembly replacement. It is possible that your Travelpro was assembled with non-replaceable wheels. So again, make sure your wheels are replaceable before ordering.
***Unit price is for 1 pair of wheels.