Shipping Policy
While we will try our best to process and prepare your order for shipment on the day we receive it, expect one business day to fully process and ship your order. You may receive an email stating your order has shipped, but it may not get picked up until the following day. Estimated transit times begin from the day the package is picked up by the carrier. The time of day that USPS picks up can fluctuate wildly. There may be days that USPS does not pick up at all due to staffing shortages or bad weather, especially in winter. UPS typically picks up in the afternoon. We will make every effort to accommodate customers who choose an expedited shipping method, but you may want to contact us to verify a shipping date.
Orders placed on the weekend or major national holidays will not ship until the next business day.
Our checkout system ensures that you cannot order more of an item than what we have in stock, so you will never have a "backorder" situation or partial shipments. We'll let you know if there is a mistake and we actually don't have an item in stock that you have ordered.
Domestic USPS shipping rates are listed at the actual retail rate as listed by USPS based on the total weight of the items in your order. USPS First Class International is the actual rate plus $1.00. USPS Priority Mail International is the actual rate plus $5.00. UPS Ground in the continental US for packages over 5 lbs. is a flat $14.95 charge. For packages under 5 lbs, the flat UPS Ground rate is $9.95.
If we can ship an order using an alternative shipper or class for less cost and equal or less transit time, then we will go ahead and make the change and pass on any savings to you. We may or may not notify you of this change, so if you chose a particular shipper for a reason, please let us know in the order comments.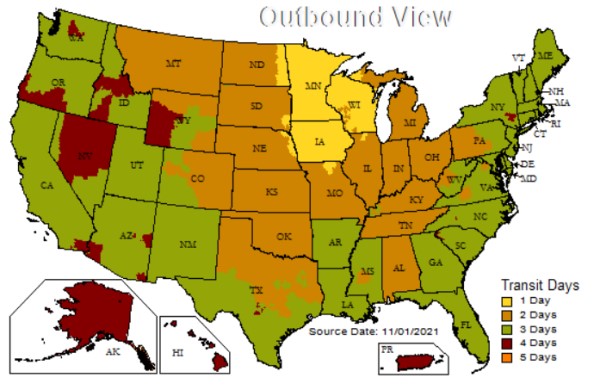 *We do not ship via UPS Ground to Alaska, Hawaii, or Puerto Rico.
For more information on a particular shipper, please visit www.ups.com or www.usps.com.
We ship from Minneapolis, MN 55410 if you want to perform your own time and cost calculations.
Click the link below for an estimate, or add an item to your shipping cart and go the checkout page. Just enter your zip code only and your shipping options with actual rates will appear.
Shipping Methods (Click here for estimate)
| Shipping Method | Delivery Time | Signature |
| --- | --- | --- |
| USPS Ground Advantage | Formerly First Class Mail 2-6 Days | No |
| USPS Priority Mail | Normally 2-4 Days, Not Guaranteed | No |
| USPS Priority Mail Express | Delivery in 1-2 days | Yes |
| UPS Ground | Delivery Within 1-5 Days | Yes |
| UPS 2nd Day Air | Delivery By Second Business Day Afternoon | Yes |
| UPS Next Day Air Saver | Delivery By Next Business Day Afternoon | Yes |
| UPS Next Day Air | Delivery By Next Business Day Morning | Yes |
Undeliverable Packages and Address Changes
If a shipment is returned to us as "Undeliverable" and not the fault of the Flight Attendant Shop, the customer will be responsible for the cost of the shipment back to us. Please make sure your shipping address is correct. UPS does not deliver to P.O. Boxes. Requesting an address change with UPS costs about $17.00, so please make sure your address is correct.
Expedited Shipping Options
Priority Mail Express and UPS Next Day Air are options at checkout. Please have your order placed by 1:00PM Central to ensure the package will go out the same day. If you need Saturday delivery or need to waive the signature requirement, please mention it in your order comments. Priority Mail Express takes one day to most locations and two days to some locations. Expedited shipping costs will not be refunded if the order is returned. Priority Mail is not an expedited option. Priority Mail generally takes 2-3 business days and the expected delivery date listed in the tracking information is not a guarantee of delivery on that day. Packages that are delayed due to weather events are not eligible for refunds of the shipping cost because we will not be able to get a refund from the shipping company.
International Shipping
We ask that you not purchase more than two rollaboards for each international order. The checkout system calculates shipping based on weight, not by how many boxes we have to send. If you order more than two rollaboards, we will cancel your order and ask you to submit another order(s).
For shipments outside of the United States, the Flight Attendant Shop is not responsible for any duties, taxes, or fees that your country's customs service, postal service, or third party shippers may charge before delivering the package. Shipments going to the EU will be subject to VAT which the recipient will be required to pay before delivery. Check with your country's customs, postal service, or delivery service before ordering to avoid unexpected costs. Large packages may be subject to extra fees before delivery.
The Flight Attendant Shop does not ship to countries that require that we, the retailer, collect VAT tax at the time of purchase. This means we do not ship to the UK. We do not collect any VAT at the time of purchase, nor is it included in the purchase price.
If your country is not listed at checkout, we have removed it due to USPS policy changes, unsuccessful past shipping attempts, etc.
It is not unusual for transit times for international packages to be 30 days or longer. Do not be alarmed if your package makes a stop in a different country. Have patience and monitor the package tracking. Packages are almost always delivered eventually. USPS customer service will only be able to tell you what you already know from the tracking information.
There are absolutely no refunds for international shipping unless there is a clear case of a lost package or our error. The Flight Attendant Shop will not be held responsible for delays in customs, delays with local delivery services, or longer than expected transit times. When a package enters the international mail system we do not have any control over what happens to it. Estimated transit times for Priority Mail and Express Mail International are NOT guarantees of delivery by a certain date. Return shipping must be initiated and paid for by the customer. In some cases the checkout system will not account for dimensional weight of the package, which may increase the cost of shipping. We may ask the customer to pay for the difference if it is of significant value. Shipping addresses are copied directly from the customer's invoice into our postage software. Make sure your address is correct.
The Flight Attendant Shop reserves the right to cancel any order that uses a freight forwarding company in the shipping address.
Customers outside the USA may not be eligible for luggage warranty service. Purchase at your own risk.